<Previous
Index
Next>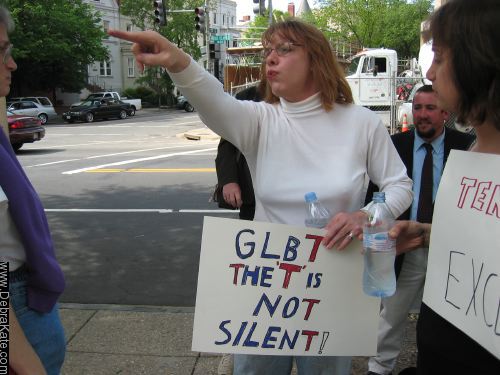 The 'T' is not silent! Protesters in front of HRC Headquarters, Washington, D.C. 2004
"I'm proud to protest against the divisiveness and discrimination of the Human Rights Campaign because I believe it's not really civil rights unless all civilians have them. All gay, lesbian, bisexual, and transgender people are one community, and we deserve political advocacy organizations that understand and reflect that basic truth."

--Rebecca Juro, May 2004



On August 7, 2004 transgender activists demonstrated once again outside of the headquarters of the Human Rights Campaign. Inside, the Board of Directors finally voted to adopt a policy to only support the federal Employment Non-Discrimination Act (ENDA) if it includes language that protects individuals from employment discrimination based on gender identity and expression.

While heralded as a step in the right direction, it remains to be seen how the country's largest LGBT advocacy organization will follow through on this policy decision and if it will extend the policy to call for trans-inclusion in other legislation.